An Indian industry that has shown considerable growth over the past 10 years is event management. The unceasing growth of events like award shows, marriage functions, fashion shows, sports events, etc. have made event management in India a glorious career choice for anyone looking to pursue a career in the service sector. Many companies are looking to hire young professionals for managing events. The degree of BBA (Bachelor of Business Administration) in event management has become a benchmark for anyone looking to get into these industries. Below are some reasons to justify that this degree has a lot of prospect in India:
Theoretical Knowledge
The course of BBA in event management is 3 years long in most reputed institutes. It hones skills like communication management, staff handling, planning of events, promotion techniques, Human Resource (HR) supervision, brand building, Public Relation studies, Advertising, Hospitality training, legal aspects of event supervision, finance handling and a host of other subjects. Theoretical knowledge of such subjects is of crucial importance to anyone looking to get into event management.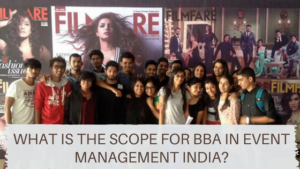 Professional Training
Most reputed colleges providing this course, employ professionals with a great deal of experience. Their insight and knowledge about this industry can prove to be very valuable to anyone looking to build a career in event management. These professionals train these students in order to make them ready for the hardships that the industry may throw at them in the future.
Experience
Anyone looking for pursuing event management studies should know that in this field, the experience is valued a lot higher than theoretical knowledge. No matter how much a candidate prepares him or herself theoretically, the professional field is a different ball game altogether. A standard BBA course in event management comes with a mandatory requirement of an 'internship' or 'apprenticeship'. Leading companies in event management tie-up with such institutions in order to provide them with an internship of about 3 to 6 months. Since it is mandatory of the course, every student gets a hands-on experience dealing with real-life situations that empower them to increase their chances of getting a job. The internship certificate counts for some value in a resume, the experience, however, is priceless.
Job Opportunities
The event management industry is a growing one. After getting a BBA in Event Management, the students find themselves in a strong position to land a job in an event management company. These companies are rising in number. Any student with a BBA degree in Event Management is highly likely to get a job in an urban city,
Gateway to Pursue an MBA
A BBA degree is the bare necessity for anyone looking to pursue an MBA in Event Management. These MBA courses not only enrich the students with a higher degree of knowledge and repute, they also give the student a broader aspect of the industry. A BBA degree from a reputed institution not only vouches for the thorough knowledge of an individual about the subject but also increases his or her potential of becoming successful in his field.
Event Management has become a glorious amalgamation of management and aesthetics. And there's no denying that a BBA degree in event management holds a lot of value in this growing industry.